Support Big Mountain Survival School Remembrance Gathering this October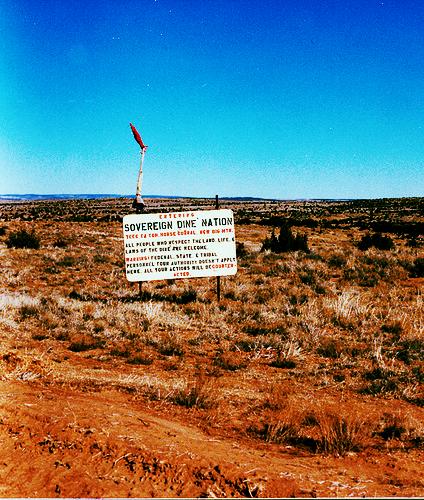 Greetings from Black Mesa Indigenous Support,
We are writing to ask for support for an amazing event this October. The Big Mountain Survival School Remembrance Gathering will be held the 6th and 7th of October. This is an anniversary of sorts; it's been 20 years since the last Sovereign Dineh Nation (SDN) Survival School.  Funds/supplies are being raised with the intention of this being a NEW beginning.
Long time resisters from Big Mountain, Jeddito, Sanders, Flagstaff, and New Mexico are collaborating with Martha Bourke, a 25 year+ supporter to Remember and Reinvigorate by holding a Survival School gathering. Martha has been involved first through the Big Mountain Support Group that published "Big Mountain News," ran caravans to two Spring Survival Gatherings, coordinated the Weaving for Freedom Project, and was a core facilitator for the SDN Survival School from '89-'92, as well as assisting with two delegations to the Peabody shareholders meetings.
Several BMIS collective members plan on playing a support role at the gathering this October and want to encourage our network to read Martha Bourke's inspiring letter and account of Survival School and make a donation with Survival School in the bylines.
"The SDN survival school was a traditional and contemporary arts and crafts day camp that was held for several weeks each summer 1989 – 1992 at the SDN-Big Mountain Survival Camp / Resistance Outpost.  We served 50+ children (including providing shuttle, snacks etc.), creating a space where families from "both sides of the fence" could experience multi-generational recreation in a culturally supportive context which provided respite from the stresses and divisions created by relocation policies. As well as develop opportunities where families on the Land, visiting family members and supporters could experience positive outcomes in the face of what continues to be the slow grind of Genocide."
"A young woman, a mom herself now who saw me at this year's Big Mountain Sundance, was reminiscing and told me, "I've never tasted a cheese sandwich as good as the ones you made at Survival School."  I hugged her close and said, "Sweetheart, it WASN"T the sandwich…it was the GOOD feelings!"  In the few weeks that I have been working on this, here are some comments from people who participated as children between 1989 and 1992….
"Awee, I remember those times.. fun crafts and pottery making… my all time favorite was making masks.. n decorating em… also candle making on the roof of the underground storage room…."
"I think this might have been my initial inspiration for community based youth programs and youth empowerment. FUN TIMES!"
This year while most will be enjoying a three-day weekend in "honor" of Columbus…let us come together to Reactivate, Revitalize, Rededicate the sovereign oriented efforts of Dineh land-base learning.
 
Support we are looking for:

Funds -for foods, art supplies, to haul firewood & water, rent a generator, canvas shelter,
Materials – Art supplies in general and specifically, watercolors, brushes, ass't paper, beads, bath towels and straw mats for felting,
Instructors / Helpers – Folks who have a traditional or contemporary art/ craft/ skill to share either half or full day projects geared towards elementary, middle school and youths.
 A gifted elementary art instructor (who has a history on the land) is interested in doing watercolors and printmaking; paper and t-shirts. Community members from Black Mesa have expressed interest in sharing herbal knowledge and felting and beading.
Audio/Visual Assistance -We want someone to manage and setup for an outdoor movie night, or either taking complete responsibility or working with me (so I can know what is needed and try to get equipment here in Taos).
Who Is Invited:
·       Dineh kids and youth with their families who are affected by relocation and cultural displacement.
·       Non-Native volunteers and instructors.
o   If you are coming through BMIS please contact us about volunteering or instructing because this is a community focused event and if there are more volunteers than needed, we might see if you can go to another home site to herd sheep or support in other ways. It is emphasized that you provide your own camping supplies and transportation.
Agenda Overview:
Saturday Oct 6th will be devoted to crafts, games and a movie night.
Sunday October 7th we will be ecological, culture hike to the original Survival Camp site and have more activities.
Twenty years after the last Survival School…..Twenty years after the great swell of awareness re: indigenous struggle in the face of the celebrating Columbus…..Won't you support / join in honoring the Dineh spirit of resistance…..
Contact: Martha Bourke – 575-758-7045
sdnsurvives@hotmail.com
or blackmesais@gmail.com