New! Beautiful Hademade Rugs for Sale
These beautiful rugs are made by master weavers from Black Mesa. From herding the sheep, to dying the wool, to weaving the rugs, the weavers hand craft their rugs in the traditional Dineh (Navajo) method.
Please contact 928-309-9051 with any questions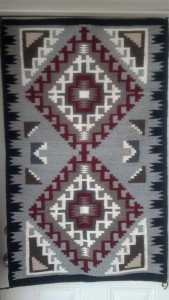 Size: 29 1/2 x 48
Ganado red design
navajo handmade commercial wool
Tightly woven
Price: $900-1000
 SOLD!