Snowbowl readies to build after injunction bid denied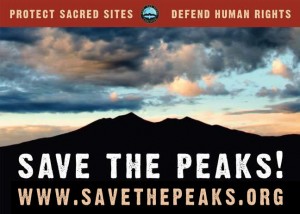 Note: The San Francisco Peaks, located just outside of Flagstaff, AZ is the altar to Dinetah. -BMIS Collective
Cross posted from Arizona Daily Sun
By CYNDY COLE Sun Staff Reporter

Snowbowl readies to build after injunction bid denied

Arizona Snowbowl plans to break ground next month on snowmaking infrastructure and begin logging new ski runs.
Opponents are still in the courts attempting to stop snowmaking, as they argue the U.S. Forest Service didn't adequately consider health risks of making snow with reclaimed wastewater.
One request for a temporary prohibition on construction has been denied; the other has yet to be decided.
U.S. District Judge Mary Murguia last month denied the injunction requested by the Save the Peaks Coalition and nine plaintiffs.
Murguia also ruled against these plaintiffs' argument in December, ruling they had waited too long to file a lawsuit and that the Forest Service had adequately examined whether snow made from reclaimed water would be safe for the environment and humans.
The plaintiffs are looking to the 9th U.S. Circuit Court of Appeals for both another hearing and an injunction.
The judges in that court were previously divided on whether safety risks had been considered in snowmaking, but they couldn't rule on that issue because plaintiffs had not formally raised it.
Rather, the 9th Circuit judges were tasked specifically with deciding whether snowmaking and other development unconstitutionally would infringe on tribal religious freedoms.
They ultimately concluded it would not, and the U.S. Supreme Court, by not taking the appeal, agreed.
Attorney Howard Shanker is hoping for a decision on the injunction by the end of March.
Snowbowl General Manager J.R. Murray said he plans to start logging and adding snowmaking infrastructure sometime in April, after Snowbowl closes for the season.