IN LOVING MEMORY OF ROBERTA BLACKGOAT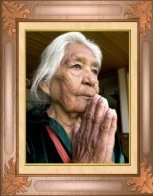 Roberta's passing has been deeply felt by us all. For some of us Roberta reminds us of how we were first drawn to volunteer with Black Mesa support work. She reminds us of our deep inspiration to live in a way that sustains and supports us all, and all of Mother Earth. Roberta reminded us that the water is the blood of the Earth, and the coal Her lungs. She had the ability to help people to see the Earth as a living and breathing being, and to feel themselves as part of Mother Earth, to realize that the damage that we do to the Earth we do to ourselves.

Roberta's strength and heart have been admired wherever she's traveled. Her words and actions have inspired us all. We feel much gratitude for the experience to hear Roberta speak in Flagstaff, AZ in April, and to be here to see the beautiful snowfall a few days following her passing. Our hearts and deepest sympathy go out to Roberta's family, and all who Love her as you walk through these times. May you feel comfort in knowing how many people she has touched and inspired in her time.

With Love and solidarity,
Flagstaff BMIS volunteers