2000 Thanksgiving Food and Supply Run Report
First a thanks to a whole bunch of people for their support.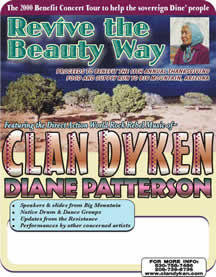 All the people who promoted the shows in their locality. We couldn't possibly do this with out those local promoters who work their butts off to get the word out that the Revive the Beauty Way tour is comin' thru town. Feeding us, housing us, befriending us.
The Portland folks and others who did their own fund gathering and joined us in Flagstaff. Thanks.
Arleen for bringing the prayer weavings and her ever encouraging words.
Of course the musicians themselves. Di Patterson who brought spirit and melody along with her family, Kelly and Alex. A super team. Ricky and Lisa, BobbyGee, Sparky, Bear.
And Leonard who kept us focused on the reason for our journey; speaking so eloquently from his heart.
Beauty Way tour 2000 came to a conclusion November 12 in Los Angles. This was the 9th fall tour in support of the annual Thanksgiving food and supply run to the Dine (Navajo) people resisting relocation from their ancestral homelands on Big Mountain.
Seventeen shows in seventeen communities from Southern Oregon to Southern California brought in $5602 in support funds and more clothing and food donations than we could carry along with over 500lbs of wool.
It was now our task to deliver the support of so many folks to the People and to join other caravans from many places in solidarity and resistance to blatant genocide. Genocide being carried out by our own government at the behest of multinational corporations lusting for the resources under the feet of the elders and their families.
A few days after the last show in LA we rondevoued at Tacopah California with our friends and comrades at Poo Ha Ba. We gathered there in ceremony to approach the task in a good way. Some of us were already there. Smiles greeted us as we walked into the community room of the healing center where a fire warmed our road weary bones.
The familiar heart beat of Corbin's drum woke us in the predawn chill of the Mojave November morning. We gathered round the ceremonial fire to make our prayers, each in their own way, to our creator. He sang his songs in his native tongue to bless us and to ask the creator to watch over us in our journey to the high desert of Black Mesa. As we moved in circle, hand in hand, the sun's brilliant light came to illuminate our faces and to give us strength for the work ahead of us.
We had come many miles to this gathering place, but we still had many more miles to travel. In Flagstaff, Arizona we would find the food already purchased from Mountain Peoples Warehouse and delivered to the Northern Arizona Food Bank a few days earlier. Also in Flagstaff we would purchase fresh produce, some tools, and supplies with which to repair some of the damaged dwellings of the People. By the time we left Flagstaff we had filled a 40 food trailer. The food bank graciously agreed to drive it to Hard Rock Chapter house where it was met by an armada of pickup trucks, flat beds and vans.
We loaded up the food and supplies for the last miles of rough rez dirt roads to Anna Mae Camp on Big Mountain. Here began the job of dividing up the food so that it could be delivered out over the many square miles to the remote homesteads.
The deliveries themselves were accomplished in 3 days. We loaded up the pickups and vans that folks had driven in and fanned out over the HPL. The supporters got a chance to see first hand the land reflected in the eyes of its people. And the People got to see that there are whole communities out here that pray for them as they pray for us. Direct people to people support.
Here's a breakdown of the food we were able to deliver to each of over 100 households:
Dog food 40lb

Blue Bird flour 200lbs

Coffee 1.5lbs

Sugar 1lb

Rice 20lbs

Beans 50lbs

Corn Meal 8lbs

Almond Milk 1gal

Pumpkins 1

Squash 10lbs

Potatoes 50lbs

Onions 50lbs

Oranges 10lbs

Apples 10lbs

Additions from the Colorado crew:

Cooking oil 1gal

Milk 2gal

Lamb feed 100lbs
Donations of material such as clothes, art supplies, herbs, quilts, labor, etc were not quantified in monetary terms.
The Beauty Way tour 2000 raised this money and in kind donations by touring September thru November. 17
Shows. Dates and venues:
Sept 15 Ashland Country Faire Immigrant Lake, Or.

Sept 22 Ashland Community Fair Well Springs Ashland, Or.

Sept 29 Michael Gerell's Orchard House Davis, Ca.

Sept 30 Vet's Memorial Hall Grassvalley, Ca.

Oct 1 Downtown Plaza Park Chico, Ca.

Oct 6 The Ashkenaz Berkeley, Ca.

Oct 7 The Emerald Cafe Ukiah, Ca.

Oct 13 Takilma Community School Takilma, Or.

Oct 14 Provolt Grange Provolt, Or.

Oct 21 Laudon Park Rec Hall Weaverville, Ca.

Oct 27 Sutter Creek Theatre Sutter Creek, Ca.

Oct 28 Black Bart Theatre Murphys, Ca.

Nov 3 Briceland Community Center Briceland, Ca.

Nov 4 Cafe Tomo Arcata, Ca.

Nov 9 Dance Palace Community Center, Pt Reyes, ca

Nov 10 Vets Memorial Hall Santa Cruz, Ca.

Nov 12 Claremont College Los Angles, Ca