Elders Living in Fear and Heartache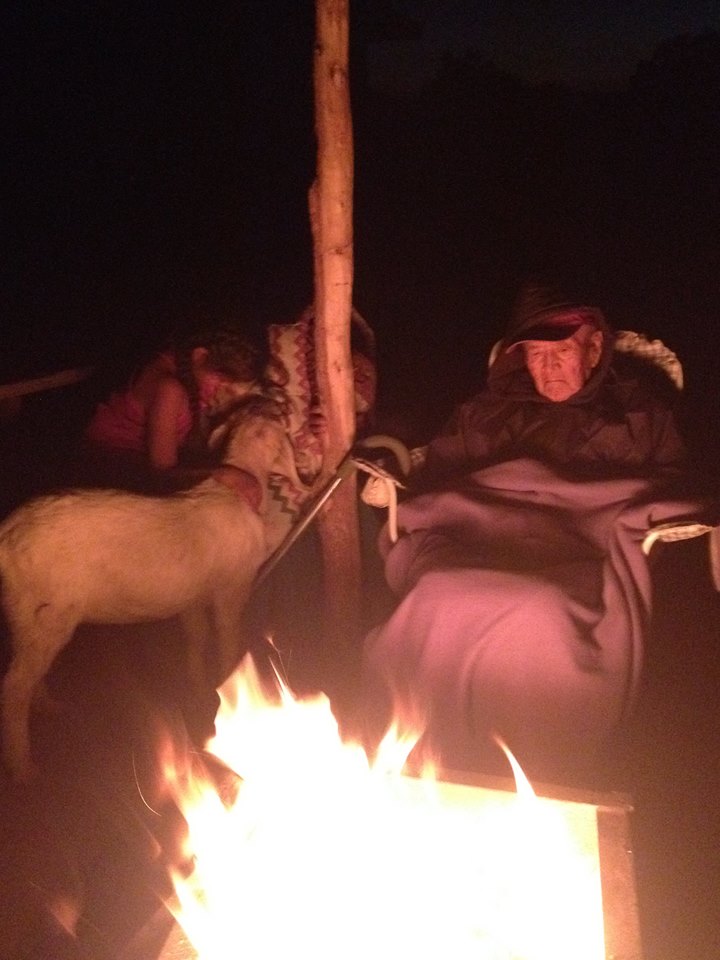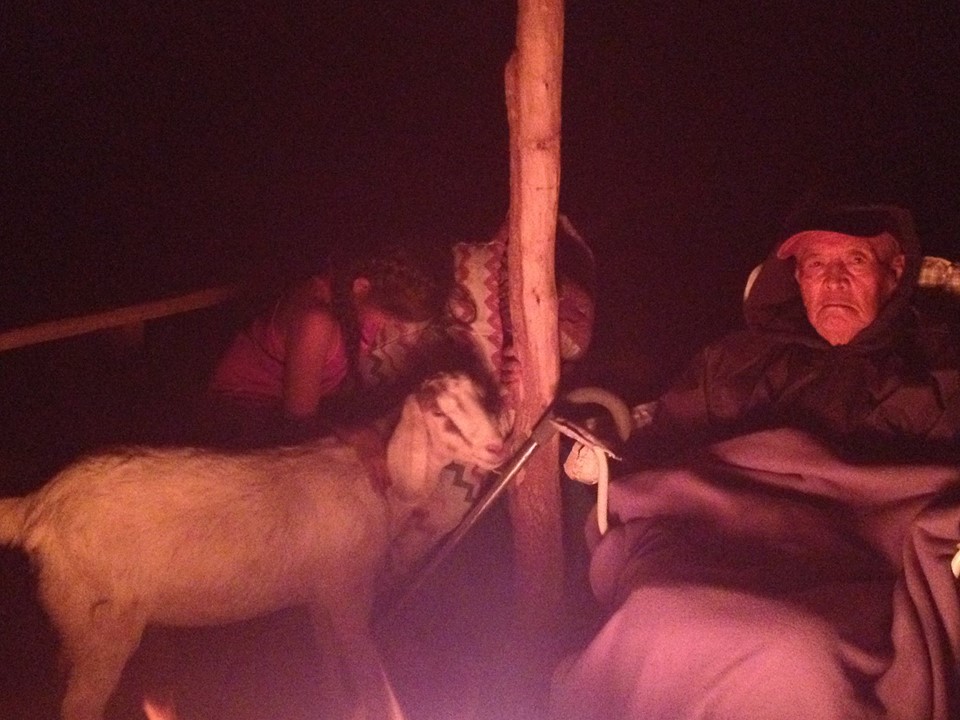 Clarence and Mary Lou Blackrock of Cactus Valley are sitting up all night by the fire, unable to sleep for fear of their sheep being taken. This distress endangers the elder's health. This family wanted these pictures shared so that the world can see the suffering at the hands of the federal government and Department of the Interior.
This is Domestic Terrorism.
---
UPDATES CONCERNING IMPOUNDMENTS & ARRESTS OF THE SOVEREIGN DINEH NATION ON THE "HPL"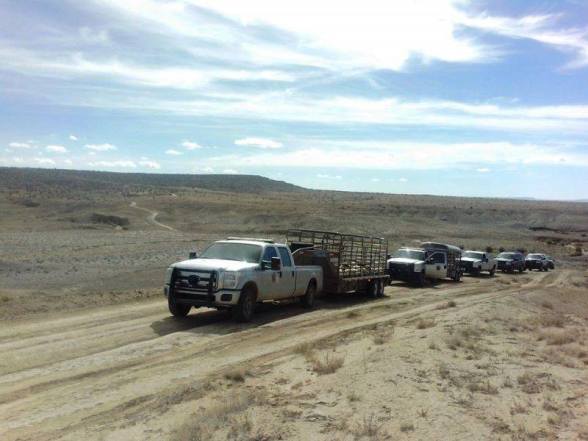 Hopi Rangers arrested two individuals and impounded 120 sheep this morning at the homesite of Tom and Etta Begay in Red Willow Springs.  Heavily armed rangers guarded and blocked nearby dirt road entrances as well.
"The Hopi Rangers came for our homestead early this morning. They tried to arrest my Aunt Etta who is almost 70 years old and my dad Bahe. They had barricades set up at the top of the hill with two police units, when we tried to get around the barricade they chased us for two miles, trying to hit us with their trucks, and they drew their guns at us.  When we got to the house they brought four more units and tried to block us in by the north hogan. They grabbed us out of our vehicles.  A male officer was grabbing me around my waist. I told them they were violating our rights and violating our elders. They were trying to arrest Etta who didn't even know what they were saying [she doesn't speak English]. She wasn't doing anything. They arrested my younger brother Lance and me. Because we were a threat to them for voicing our rights and defending our family. It took three officers to detain me and another three to detain my brother.   We didn't  go down without a fight. We were let go after six hours of detainment. I told them they are threatening our family who is all alone and elderly and they come out with guns and threaten and scare them. Who would have defended our family if we didn't come?  We didn't come with guns and knives; we are not violent, we just came to protect our family.  Who knows what they would have done if we weren't there. We said, we are not scared.  We are protecting our elders, if you are going to take us to jail for that, do it. They took 120 sheep from our homestead."–Milayia Yoe, arrestee.
The U.S government has always used "scorched earth policies" against Indigenous people–attempts to cut them off from their food supplies, decimate economies, or destroy infrastructure–as a precursor to forced relocations including the Long Walk of the Dineh. Livestock impoundments come under this category. There is increased surveillance on the families and livestock of the so-called "HPL" including the use of drones.
"We are in a battleground, the endless battleground of the Partitioned Lands. This is the front of the line and when it comes your family there is no yes or no, you have to stand up for your family and your relatives. This is what I was taught. The past was never really forgotten of the way the U.S. Government treated my people. It is still going on, it is still alive. We will fight- not with violence or armor, but with the old ways.  This is a stand for people to know who we are and how we live as Dineh."–Gerald Blackrock  10/23/14
"The U.S. government is using the Hopi Tribe. We are Native People, we don't work like this."–Beulah Blackrock 10/ 28/14
Caroline Tohannie, the elder who had her herd impounded last week, has a court date coming up where she will be facing trespassing charges for being at her homestead.
These impoundments are stressful for the entire community, particularly the elderly:
"Our life is connected to the life of the sheep.  We are alive and strong because of them, and being close to them, being with them everyday, keeps us strong. Especially now in our old age the sheep are important to us. If we are too far from our sheep, we can become frail. " Clarence and Mary Lou Blackrock, Cactus Valley Elders10/25/14
"I disapprove of the impoundments. They really affect the elderly. Ever since I was a baby I was carried on a horse to herd sheep. I have herded all my life and I am in my eighties.  You have the livestock in your heart, and they want to take that away."–Jack Woody, Black Mesa Elder 10/25/14
"They way that the rangers are treating the people goes against the Dineh way; it is very taboo to point a gun at somebody. They are traumatizing an already traumatized community. If overgrazing was actually the issue they could just educate people. But it's not. This is uncalled for."–Marie Gladue Big Mountain Resident 10/28/14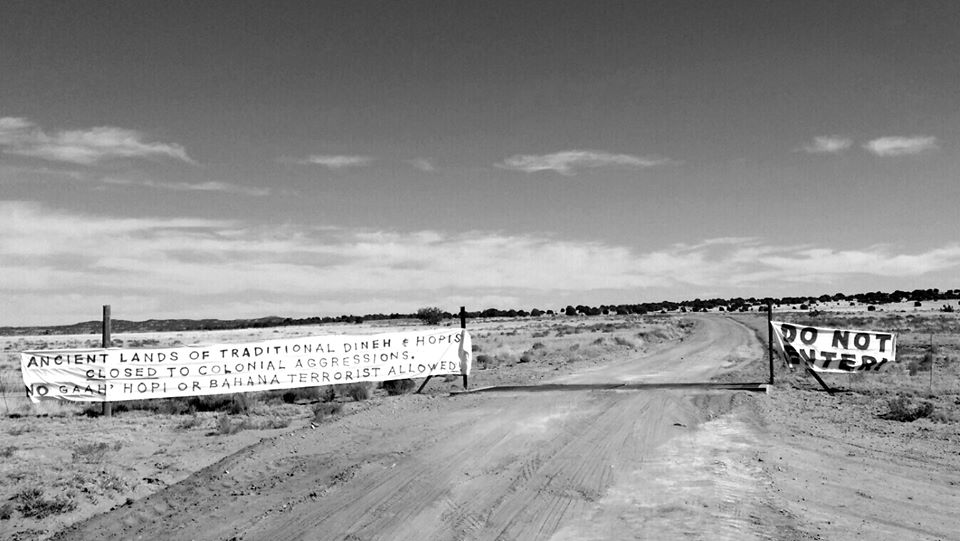 Calls to Action:
*Lawyers needed! If you are a lawyer or have connections to lawyers, residents are requesting legal assistance.
*Call protests at your local Department of Interior or Bureau of Indian Affairs offices, donate funds here, come to the land as a human rights observer (email blackmesais@gmail.com for more information),
*"Call the Bureau of Indian Affairs, the Hopi Rangers, and the Department of Interior. Ask they stop impounding sheep on the HPL. This is current day colonialism, our food sovereignty is being attacked and ask that they stop the unjust impoundments."–Louise Benally
Call:
The BIA superintendent Wendel Honanie at (928-738-2228),

Hopi Chairman Herman G. Honanie,  Email: hehonanie@hopi.nsn.us, Phone: (928) 734-3102

The Hopi Rangers Clayton Honyumptewa at (928-734-3601),

The Department of Interior at  (602-379-6600)
***Please forward this request far and wide by re-posting or sending this to ten people***
---
URGENT: WIDESPREAD IMPOUNDMENTS & AN ARREST ON THE HPL OCTOBER 2014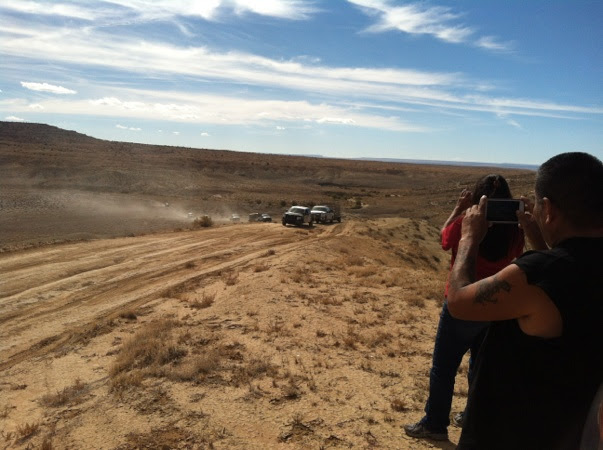 UPDATE from HPL (Hopi Partition Land) residents:  Shirley Tohannie and elder Caroline Tohannie  had their entire herd of 65 sheep impounded by the Hopi Rangers (US federal government) Tuesday, October 22, 2014.If the fines aren't paid the sheep will go to auction, and the family is being told that the sheep will not be able to return to the family's rangeland.  The cost to release the livestock is nearly $1,000.
Jerry Babbit Lane, the Tohannie's neighbor on the HPL, was arrested by Hopi rangers when he attempted to check on his neighbors and was charged with disorderly conduct. He was released this evening, 10/23. Rangers told Shirley they plan to take Rena's (Jerry's mother) sheep too and that they're going to start impounding across the HPL.
 As we're writing, another family on Big Mountain has had nearly their entire herd impounded.
PLEASE DONATE HERE for an impoundment fund.
Residents are requesting human rights observers and sheepherders during this time of escalated harassment.  If you or anyone you know can come be a human rights observer to support the Dine resistance on Black Mesa, now is the time. Doing human rights observation work can help stop or slow down the impoundment process. Families who will be potentially impacted by impoundments are requesting solidarity. Email blackmesais@gmail.com if you can come out.
"Call the Bureau of Indian Affairs, the Hopi Rangers, and the Department of Interior. Ask they stop impounding sheep on the HPL. This is current day colonialism, our food sovereignty is being attacked. Call the BIA superintendent Wendel Honanie (at 928-738-2228), the Hopi Rangers Clayton Honyumptewa at (928-734-3601), and the Department of Interior at  (202 208-3100) and ask that they stop the unjust impoundments."–Louise Benally
Although these orders are coming from current Hopi policy, ultimately the relocation laws and livestock impoundments result from the federal government and Peabody Energy's divide and conquer strategy used to open up the land for massive coal mining. "In the 1970s, Hopi elders encouraged the Dienh elders to remain on their homelands, saying if they did relocate, the coal mine would expand. The Hopi elders said it wasn't them who wanted the land."–NaBahii Keediniihii
A July 2012 report by the Navajo Nation Human Rights Commission classifies the relocation as a massive human rights violation and demands the immediate repeal of PL 93-531 and an end to relocation efforts and harassment in the form of surveillance, livestock impoundments, and disruption of gatherings and ceremonies that the resistance community experiences.
The sheep sustain the vitality of the people and the land, and traditional grazing practices need to be supported not severed. Impoundments are nothing less than harassment and human  rights violations.
For background information on the resistance of the HPL communities, click here.
***Please forward this request far and wide by re-posting or sending this to ten people***
---
Request for Sheepherders and Human Rights Observers-July 2014
*******BMIS is in the process of updating our contacts.  In order to keep receiving updates from BMIS, please confirm your information here.  Thank you!! *****
"This land is being taken away because they've got power in Washington. We were put here with our Four Sacred Mountains and we were created to live here. We know the names of the mountains and we know the names of the other sacred places. That is our power. That is how we pray and this prayer has never changed." ~Katherine Smith, Big Mountain Matriarch
The BMIS collective has been asked to pass on requests for direct on-land support from Dineh (Navajo) families in the following communities on Black Mesa: Thin Rock Mesa, Big Mountain, Wide Ruins, Owl Springs, Teesto, Mosquito Springs, Cactus Valley, Sage Springs, Horse Corral, Star Mountain, Red Willow Springs, Great Springs, and Buckskin Well.
***Please forward this request far and wide by reposting or resending this to ten people***
For four decades these communities have fought to stop the U.S government and Peabody Energy Company's exploitation of their homelands and communities. Today families remain, steadfastly resisting the mine, colonialism, and forced relocation. Families' resistance to forced relocation puts them on the front lines of the struggle against resource colonialism in the form of large-scale coal mining.
In the face of colonial laws that undermine sovereign economies and relocation laws that seek to prevent younger generations from living with their parents and grandparents, elders request additional support. You are being invited to the resistance communities' lands and homes, to assist in daily chores tending livestock and the homesite, and to act as a human rights observer. In this last month, families have gotten letters and visits from government authorities threatening livestock impoundments and herd reductions. As livestock are at the center of traditional life and economy, people are asking for support in maintaining their herds. Your presence as a human rights observer can help deter impoundments. While extended family provides the most consistent and crucial support for their elders, outside supporters are asked to herd sheep so families can more easily go to meetings, medical appointments, organize, weave, visit family…
Come for several weeks, to a month, or longer if you can. Support is appreciated all year round and especially wanted right now in the face of impoundments.
By choosing to offer direct on-land support, you honor not only these elders, but the dedication of their extended families, and the continued legacy of resistance.
Community members are specifically requesting local Dineh youth's involvement. BMIS will work to prioritize local youth's participation by providing travel stipends and supplies. Please consider donating to support this work.
Read about the BMIS collective here.  BMIS can assist you in the essential process of being self-sufficient on the land. We are happy to speak with you over the phone or email and we offer important online resources like the Cultural Sensitivity & Preparedness Guidebook, as well as a wealth of archives documenting the resistance, all found on our website. We ask volunteers to read the guidebook and register with BMIS to ensure the safety of supporters and as well as families.
*******BMIS is in the process of updating our contacts.  In order to keep receiving updates from BMIS, please confirm your information here.  Thank you!! ******
Hope to Talk to You Soon,
The BMIS Collective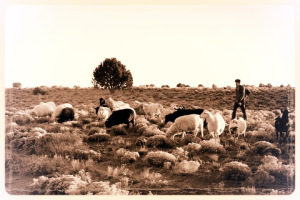 ---
Help get the word out about the Big Mountain Training Camp!

Thanks so much for getting the word out about the Big Mountain Training Camp and helping to honor 40 years of Dineh resistance to cultural genocide, forced relocation, and large-scale coal mining.
This is a important moment for building a broad-coalition of resistance against Peabody.  The camp is a collaborative effort of The Elders Circle of the 40-Year Sovereign Dineh Nation Resistance, with Black Mesa Indigenous Support (BMIS), Ho'zho'ogo Nahat'a', Radical Action for Mountain Peoples Survival (RAMPS),  Missourians Organizing for Reform/Revolution & Empowerment (MORE), and Save the Confluence
Facebook event with basic info: https://www.facebook.com/events/237931126402589/
Camp Webpage: https://supportblackmesa.org/2014/03/big-mountain-spring-training-camp/
Donation link: Donate here to ensure that local organizers can participate. Make sure to designate "Big Mountain Training Camp" in your donation: https://supportblackmesa.org/donate/
Coordinating Twitter hashtags: #Honor40Years, #Not1MoreRELOCATION, #KeepitintheGround
Check out the NEW "Honor 40 Years of Resistance" Video:
Like and Share The Memes
---
Big Mountain Spring Training Camp May 16-23, 2014
BIG MOUNTAIN SPRING TRAINING CAMP
BIG MOUNTAIN, DINEH NATION
#Honor40Years
#Not1MoreRELOCATION
#KeepitintheGround
"What we are trying to save—the Female Mountain—is alive. She is alive, she has blood flowing through her veins, which is the Navajo Aquifer, and the coal they are digging is Her liver. They are destroying Her."–Marie Gladue, Big Mountain Relocation Resister
"We need to exercise our right to be human. To gather on the land and have our words be heard by the ground, the trees, and each other."–Louise Benally, Big Mountain Relocation Resister
During this moment of peak visibility around climate change, we extend this invitation for a training camp on Big Mountain. We'll gather to honor 40 years of Indigenous resistance to cultural genocide, forced relocation, and large-scale coal mining.
*Application link at bottom of email* DEADLINE FOR APPLICATIONS IS TUESDAY APRIL 22 at midnight (PST)



The Elders Circle of the 40-Year Sovereign Dineh Nation Resistance, with Black Mesa Indigenous Support (BMIS)–a collective working in solidarity with the Big Mountain and surrounding resistance communities–as well as Radical Action for Mountain Peoples Survival (RAMPS),  Missourians Organizing for Reform/Revolution & Empowerment (MORE), and Save the Confluence are collaboratively organizing this camp.
Background on the Training Camp
Building on alliances made during last June's gathering on decolonization, the collaborative planning process for this gathering has been a combination of conference calls and in-person meetings. Since September, there have been five community meetings on Black Mesa with elders, second generation resisters, and collective members from BMIS. Additionally, monthly meetings are held in Flagstaff with youth and local organizations. Through these meetings, community members have guided the tone, outreach, messaging, goals, and ceremonies necessary for the preparation of this camp. When asked what kind of action elders wanted to see, they shared examples of the different forms of action they have taken while defending their right to remain on their ancestral homeland. They expressed looking forward to sharing their stories as to inspire next generations.
Camp organizers are connecting with trainers and workshop presenters from organizations such as Multicultral Alliance for a Safe Environment (MASE), Save the Confluence, Palestinian Youth Movement, RAMPS, MORE, No One is Illegal (Canada), Puente Human Rights Movement, Sixth World Solutions, Black Mesa Water Coalition, Anti-Uranium Groups, and the Navajo Nation Human Rights Commission. The camp offers a variety of  non-violent direct action (NVDA) skills and workshops grounded in legacies of land-based resistance. Spiritual, cultural, artistic practices and healing will be foregrounded.
The workshops and trainings will include:
Introduction and History of NVDA

The History of the Struggle and Land Dispute on Black Mesa

Cultural Work as Resistance to Colonialism

Frontline Movement Updates

Cultural Sharing and Storytelling

NVDA techniques

Decolonial visioning

Art and prop making

People's Media and Communication (including messaging, social media, and live-streaming)

Know Your Rights and legal training

…and many more
Exciting workshops and trainings keep getting confirmed for the Big Mountain Spring Training camp.
Narindrankura Nadine (To Nizhoni Ani): "Non-Violent Blockades"
Julius Badonii: "Community Organizing"
Leona Morgan (Diné No Nukes): "Our Nuclear New Mexico"
Janene Yazzie (Sixth World Solutions): "Water Rights and the Future of the Navajo Nation"
@Autumn Chacon: "Pirate Radio"
Andrew Curley (Navajo Times): "Coal Mining and Energy Policy on Navajo Land
@Amanda S. Lickers (Reclaim Turtle Island): "Media and Self-Representation"
"During this gathering, we want to re-create harmony between Indigenous peoples who have been harmed by relocation policies. We want to re-spark the cross-movement connections made at last June's Gathering by taking action at the site of disruption–the coal mine itself." — Danny Blackgoat, community organizer and son of Resister Matriarch, Roberta Blackgoat.
Goals:
*To honor 40 years of resistance on Big Mountain and confront resource colonialism
*To build on strategic alliances between anti-extraction struggles in Appalachia and Black Mesa
*To strengthen connections between Indigenous communities on the front lines of land defense
*To build on cross-movement connections made at last June's gathering for decolonization (on Black Mesa)
*To expand the solidarity network
*To center cultural and spiritual elements of resistance
Logistics:
The training camp is free, including all food, lodging and training. However, we are encouraging participants to fundraise and donate as they are able to help offset costs. BMIS has limited funds for travel stipends and we are prioritizing funding for Indigenous and frontline communities. There will be limited indoor space for sleeping; most participants will be camping.  The camp will be in a remote area with no running water, paved roads, or electricity.  More details are provided in the application (below).
Call for Sheepherders/ Human Rights Observers:
Resistance community members are requesting returning sheepherders/ human rights observers this spring. Because this camp is held on actively disputed land (see background), it will not be possible without human rights observation during and following the camp. Your involvement will make it possible for the resistance community to participate in the camp and will help mitigate further harassment.
Contact us if you are able to come a week early and help set up base camp!
Contact: BigMountainCamp2014@gmail.com with application questions
In Honor of 40 Years,
The Elders Circle of the Sovereign Dineh Nation, The BMIS Collective, RAMPS, MORE, & Save the Confluence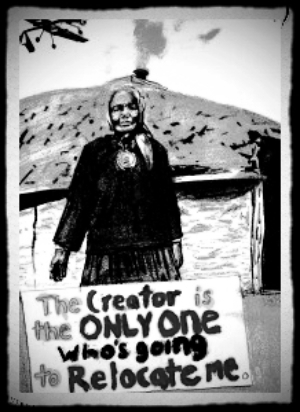 ---
BMIS Newsletter Fall 2013
Sovereign Dineh Nation Survival School 2013
Last year, the SDN Survival School reconvened after a 20 year hiatus. This year, the revival continued! For two weekends in October—the 5-6th and the12-14th—there was an "intergenerational forum for the sharing of traditional and contemporary survival skills" hosted at a family's home site.  This year's activities focused on weaving, pottery, and traditional foods in addition to workshops on watercolor painting, beading, archery, Dineh bi'zaad bo'hoaah' (Dineh language) and more! Host, Elder Mae Tso,  had this to say of the event (translated by Bahe Kateny):
Mae Tso, Mosquito Springs Community – Big Mountain, October 13, 2013. At last day of BM-SDN Survival School, speaking to all Dineh and non-Native supporters:  "This will be a memorable little gathering we had. There were much cultural teachings and exchange like the archery, gifts of harvest variety, our sister Etta Begay sharing wisdom about the corn meal bread making, and there were the knowledge about butchering animal to make meats. I, too, wish for this SDN school to keep growing and we are going to try again to plan for next year, but this time we have to see if our peoples really care about our traditional survival ways. We need our peoples' input because our dreams within this resistance are that, we like to bring back the songs of the Ndaa'h, stories about the T'aache', more crafting skills like arrow, bow, rawhide rope, wool weaving, and pottery making. We need our children back and our grandchildren to return so that they can experience the empowerment of spending time on their Homelands.  We have resisted all these years so that they can continue on these lands but instead, they have urbanized themselves far away from these places out here. Most of them never come out to check on us.On behalf of the elders in resistance and to you non-Native supporters, we wish to inform you that we know about the many obstacles you face in terms of the political and economic processes. We know that you have to volunteer your time to come out and assist in whatever way you can, and you do have to deal with many more challenges out here on our lands. But together and in the spirit of trust, joy and understanding, we have made it this far. Most importantly, we did not meet in a normal quiet social setting but instead you all came out in the midst of our calling because our homes and lands were under siege by inhumane activities. You all came out when we were trying to stop the partitioning fences, stop the impoundment of the sheep and the horses, and to stop the police from disrupting our lives. Our long lived relationship is based on these, and many of you also volunteer your time in other places where the earth and peoples' culture are being desecrated. Here at Big Mountain, we have loss many of our strong elders and some are now so old, and we still do our best to stay in solidarity with All Relations that are in defense of all living things and all indigenous existence. We continue to stay on our homelands and we shall maintain this native resistance.
Fall Caravan/Wood Run Update
We're so grateful for the last five years of fall caravans/wood runs and all the energy, learning, building, and the inspiration from the elders that comes with them. Since many people in the network have returned regularly over the years, there's been an exciting amount of consistent, smaller work parties organized throughout the year. These are great opportunities to bring new people out to the land, connect with families, and get a number of projects done. This year BMIS will not be organizing a centralized fall gathering in late November, but are calling for the network to organize smaller work parties in order to respond to the communities' requests for wood. At this point a couple of regional coordinators are planning small wood crews and we can put groups in touch with families to spend ThingsTaken (Thanksgiving) break out on Black Mesa herding sheep, hauling water, cutting wood, and other winter preparation.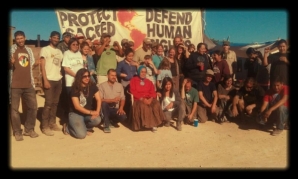 Decolonizing the Mind/Mine Reportback
Below are a few short participant reflections on the June 2013 "Decolonizing the Mind/Mine" gathering on Black Mesa.  BMIS would like to express our immense gratitude to the community and those who attended the gathering for bringing about such powerful cross- movement dialogue. Community member Marie Gladue's facilitation, using the four directions traditional planning process, led to rare connections made between spiritual practice and resistance, and created possibilities for joint struggle among frontline resistance communities as well as several organizations operating in solidarity.
From the International Jewish Anti-Zionist Network:  
"This June, IJAN U.S. organizers attended a gathering held at Big Mountain/Black Mesa that focused on decolonization. Big Mountain/Black Mesa is a portion of the ancestral homeland of the Diné (Navajo) people who since the 1970's have been resisting relocation by Peabody Coal and the U.S. Government over coal extraction. The gathering, organized by Black Mesa Indigenous Support in collaboration with the community of resisters on Black Mesa (the Diné organizers involved in the resistance struggle), sought to lay groundwork for joint struggle by bringing together organizations working on the front lines of anti-colonial struggles, as well as allied organizations.
The week included a powerful lineup of workshops on the struggle on Black Mesa and the history of the Diné people; the Hawaiian sovereignty movement; the Palestinian Struggle against settler colonialism and Zionism; hip hop as a culture of resistance; the militarization of the U.S./Mexico border; and resistance to mountaintop removal, a form of coal extraction in the Appalachian region of the U.S. IJAN was asked to facilitate a discussion about the frameworks of solidarity and joint struggle.
The gathering was attended by Black Mesa community members, Diné youth, and representatives from the Palestinian Youth Movement, Forgotten Peoples, Ka Lei Maile Ali'i Hawaiian Civic Club, Idle No More Central Oklahoma, Great Plains Tars Sands Resistance, Radical Action for Mountains' and People's Survival (RAMPS), the Rebel Diaz Arts Collective, No More Deaths, the Just Seeds Artists Cooperative, Shining Soul (an O'odham and Chicano hip hop duo) and IJAN."
From Nick Mullins:
"My family and I recently had the honor of joining these elders thanks to the efforts of groups like 
Black Mesa Indigenous Support
 and their affiliations with Appalachian groups such as the 
RAMPS Campaign
. High on Black Mesa we joined dozens of other people to camp out on a Navajo homestead for a week,  working to help the elders and to share stories of struggle from other places.
It was a different life, rising with the sun, herding sheep through desert landscapes where the kids often met with the needle of a prickly pear, found their socks covered in Russian thistle, and fought off the constant biting of desert fleas. We sheared sheep the old fashioned way using sheep shearing scissors, we cooked for the elders, and my children even shoveled sheep manure out of a corral. We only spent hours doing what people are accustomed to doing all of their lives and we learned a great deal of respect in doing so.
Back at camp we heard stories from Palestine and Hawaii, from the Lakota of Oklahoma, and more about the struggles on Black Mesa. In many cases it was the same story, people who only wished to live by the old ways of caring for the land, not asking for much in return, and yet finding themselves fighting each day, hoping that the spoiled reckless greed of our civilization will not continue destroying the lands and culture they have clung to for thousands of years…Standing on a hill above the homestead I watched the massive booms of drag lines swinging back and forth on the horizon and the plumes of dust rising from blasts. I knew the the mine was ever approaching and feelings of deep sorrow mixed with feelings of tremendous respect for the people living here. Thousands of miles away from my Appalachian home in a foreign environment, I began to feel even more strongly the connections: the power of all life, the struggles we all face, and the need to protect our children's future. If only people could understand as the native elders do—that the land, the water, and the air are more important than any man made economy ever could be."From Rebel Diaz:
"The Din'eh people are waging a courageous struggle against years of genocide and land theft from the US government and the Peabody Coal Company. We were honored to spend a week in Black Mesa with the brave Din'eh grandmothers who have refused to leave their ancestral lands. We helped plow the land, herd sheep, build an outhouse and finished the week with a performance under the bright stars of the Arizona desert."
Navajo Generating Station
From Katherine Locke (Navajo-Hopi Observer): "On Sept. 25 the Environmental Protection Agency (EPA) accepted an alternate proposal by the Navajo Generating Station (NGS) Technical Working Group for reducing harmful emissions at the northern Arizona power plant. Under the proposal one of the three units will be shut down. In exchange the owners would have until 2030 to install selective catalytic reduction scrubbers on the other two units."
The EPA will hold five open house and public hearing events on NGS's lease renewal at locations throughout Arizona onNovember 12-15, 2013:
November 12: LeChee, Ariz.Open House/Hearing: 10 a.m. – 1 p.m. LeChee Chapter House
November 12: Page, Ariz. Open House: 3 p.m. – 5 p.m., Public Hearing: 6 p.m. – 9 p.m. Page High School Cultural Arts Building,
November 13: Kykotsmovi Village  Open House: 3 p.m. – 5 p.m., Public Hearing: 6 p.m. – 9 p.m. Hopi Day School
November 14: Phoenix, Ariz. Open House: 3 p.m. – 5 p.m., Public Hearing: 6 p.m. – 10 p.m. Phoenix Convention Center
November 15: Tucson, Ariz. Open House: 3 p.m. – 5 p.m., Public Hearing: 6 p.m. – 9 p.m. Pima Community College West Campus Proscenium Theatre, Center for the Arts Building
For More Information on the EPA's ruling and comment period on NGS, check here.
From Big Mountain Resident and Climate Justice Activist Louise Benally: "NGS, Peabody, SRP, they are all a part of ALEC (the American Legislative Exchange Council) a group of politicians and corporate CEOs that write laws to ensure profit while they undermine democracy, Treaty rights, the very balance of the planet. These colonial powers are undermining our water rights, rights to ancestral homeland, clean air, health of communities and plants and animals and use the same techniques to undermine government's power all around to world to access resources. Extinctions, air pollution, the survival of our people and way of life, our Tribal government doesn't consider these things. To give coal development more time, they're giving away our future."
Missourians Organizing Against Peabody
A St. Louis-based organization called Missourians Organizing for Reform and Empowerment (MORE) has launched a ballot campaign against Peabody Energy, which has its corporate headquarters in St. Louis.  They are gathering signatures to stop the city of St. Louis from giving Peabody tax breaks.  Part of their open letter describing their campaign reads:
"We do not believe that companies like Peabody Coal who profit off of the destruction of the environment and their workers deserve our taxpayer dollars. Similarly, we do not believe that those who support Peabody and other extraction companies deserve our money.
Recent controversies surrounding Peabody have raised even more reasons why Peabody should not receive our public money. In the past year, the United Mine Workers of America (UMWA) has marched downtown many times, demanding Peabody provide the healthcare benefits owed to 10,000 retired miners. Dine (Navajo) from Black Mesa, Arizona have traveled all the way to St. Louis to insist, after decades of exploitation, that Peabody stop its forced relocation of Dine families to expand coal mining operations. Peabody is also under investigation by the Securities and Exchange Commission about its role in the development of the Prairie State Energy Campus that has left Missouri towns like Marceline and Hannibal on the hook for large electricity rate increases. We can no longer treat Peabody as if it is a good neighbor to St. Louis while, just beyond the city limits, Peabody is exploiting miners and communities. Peabody's dishonorable business model is not one on which to base our local economy. "
Keep up the good work MORE! You can follow their work on Facebook @ Missourians Organizing for Reform and Empowerment.
---
Big Mountain Resister, Leonard Benally, Passes On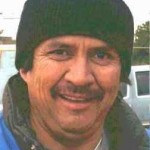 Yesterday, on October 11th, lifelong Big Mountain resident and relocation resister, Leonard Benally, Dineh, passed on to the spirit world.  According to his family, he passed on quickly and easily and was surrounded by his family.  His family asked that a statement go out to the BMIS support network.
They are remembering him as a strong, free, independent, elder role model who fought until the end.  They note how much he influenced them to carry on in the struggle, to fight for what is right, and to not take life for granted.  They see him as a warrior who will be watching over them in their continued struggle.  They mention that he was a man of few words who taught so much.  Now, he is free, they say, in the spirit world among the creators—free of the strife of struggles with tribes, courts, laws, and danger.   As much as they and we were not ready for Leonard to pass, the family believes that once he was surrounded by his loved ones—his children, grandchildren, brothers, sisters, nieces, and nephews—he was ready. His family, who are heartbroken but holding strong together, asked for your thoughts, prayers, cards, phone calls of love and support.
Anything will help.  You can send emails to blackmesais@gmail.com and we will pass them along, or you can leave voicemails with Leonard's niece at: 928-206-0311.  The family is also requesting donations for the funeral costs and for support during the process of sending Leonard on.
The family repeatedly mentioned that Leonard gained strength from the support network's work, prayers, phone calls, and relationship.  Let's continue to pass on collectively.  They will hold a meeting at Leonard's Big Mountain residence tomorrow, October 13th, at 3:30pm and would like help serving food, setting up and cleaning.  Leonard's memorial service will be held next Saturday, October 19th, at the Desert Memorial Funeral Home in Tuba City—all are welcome.  You can send funeral donations directly to the funeral home, or to BMIS.  BMIS will pass the money directly on to the family.  If you donate through BMIS, please note that your donation is for the Benally family in a note or memo line.
Some quotes from Leonard on his life of hope and dignity and struggle against Relocation:
"We have been living in silence and we have been dying in silence. We want to share with others our struggle. If we walk alone, we are useless, we are nothing.  The old people have told us, take your struggle out to other struggles. Then you can stand together with one freedom. They isolate us, dislocate us and relocate us. Relocation is nothing new to Indigenous people, it has been going on for 500 years."
"We are victims of terrorism. It takes everything out of us. It breaks us. It tears us down emotionally, psychologically and spiritually. But we have hope out here. Hope lives in the heart. We have a profession, it is the profession of hope."
"They are trying to erase the history of our people. They tell us we have no history or no tomorrow. But we are still resisting and quite heroically."
"All we are fighting for is a dignified life. We will never surrender."
Rest in Power, Leonard
---