News Release: OSM Approves Black Mesa Project Final EIS
---
Black Mesa Project Receives Approval From OSM
On December 22, 2008, OSMRE issued a record of decision approving Peabody Western Coal Company's mine permit revision application for the Black Mesa Complex.
Read the full decision here: http://www.wrcc.osmre.gov/default.htm
A statement will be issued soon, please check back for updates.
More information is also available at: http://bsnorrell.blogspot.com
avian flu Tamiflu Withdrawal tamiflu for swine
stomach flu symptoms Bird Flu Pandemic tamiflu or relenza
Tamiflu wikipedia tamiflu withdrawal 40. H1n1 Swine Flu rumsfeld tamiflu
soap note on tamiflu Hiv Flu incubation period for swine flu
swine flu cases! Tamiflu And Relenza tamiflu suspension?
how is the swine flu transmitted Swine Flu Cartoon swine flu origin
flu symtoms Flu Tracker stopped tamiflu early;
roche tamiflu Tamiflu Capsules swine flu
tamiflu rumsfield? Are There Treatments For The Spanish Flu rumsfeld tamiflu
flu prevention signs? Parvo Tamiflu tamiflu without a prescription
flu treatment Tamiflu Singapore Tender swine flu prevention kits
"buy tamiflu w/ no prescription" Swine Flu Cases flu symptoms,
alendronic acid tamiflu Gastric Flu Treatment san luis potosi swine flu
swine flu cartoon Not Completing Tamiflu For 5 Days What are some treatments of swine flu what are the ingredients 969.
flu mask p95 Swine Flu Death Victems On Tamiflu cold and flu remedy
order tamiflu Swine Flu In California tamiflu pregnancy
can you get better from h1n1 without tamiflu What Is The Swine Flu comprar tamiflu!

---
FYI: UPDATE: Navajo & Hopi Protest OSM in DENVER!!
THANKS to everyone who helped us make our point to the Office of Surface Mining yesterday!   OSM disconnected their phone line because so many people flooded them with calls!
This is just the beginning of this battle, we are  more determined than ever to not allow our homelands to be turned into "minor"  decisions for coal interests!  I hope you will continue to stand in solidarity with Indigenous Peoples and the "front line" communities that are  taking a stand against these major entities!
Please help us get this update out and again thank you!!
-Enei
Enei  Begaye
Co-Director, Black  Mesa Water Coalition
PO  Box 613 Flagstaff,  AZ 86002-613
www.blackmesawatercoalition.org
Read more
---
Big Mtn. Elder Matriarch Continues to Face 'Federal' Threats
Big Mountain, Black Mesa (Arizona), November 18, 2008 – A nice peaceful morning in the Dineh resistance stronghold known as Sweet Water was again disrupted by a uniformed officer from the Office of Hopi Lands. This officer who had a badge that indicated he was with the Hopi tribal police claimed he was not serving a "noticed" on behalf of the Bureau of Indian Affairs, nor the U.S. government. The small 82 year old matriarch, Pauline Whitesinger, was trying to speak in the Dineh language to the thick and tall Indian officer that cannot understand Dineh and who was 'assigned' to meet with (grandma) Pauline about her "unauthorized" reconstruction of a traditional earth lodge. Read more
---
2008 Beauty Way Tour Big Mountain Benefit
2008 Beauty Way Tour, Big Mountain Benefit
In Support of the Annual Thanks Giving Food Run to Big Mountain
When: Starting 6 PM, Saturday, November 22nd, 2008
Where:  Seaman's Lodge, Pioneer Park, Nimrod Street, Nevada City, CA
Who: Clan Dyken, Warcry, all nations drum group, Somer Moon, Kimberly Bass, Earth Rhythm Dancers and Drummers, and George Scroeder, silent auction and raffle Read more
---
Stop The Black Mesa Project: Peabody's Massive Coal Mining Expansion Plans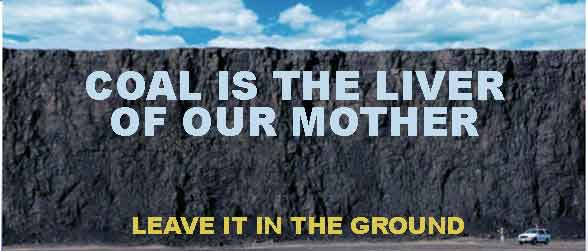 ALERT:

The Permitting Process for Massive Coal Mining Expansion Plans, The Black Mesa Project, has been Re-opened and Comments for Final Environmental Impact Statement (FEIS) Were Issued the Day After Election!

Both Republican & Democratic parties have consistently expressed support for the development of so-called 'clean coal' technology to help solve the nation's energy problem while claiming to be interested in fighting pollution, global warming, and human rights. While many environmental and scientific groups have questioned whether the burning of coal can ever be clean, for First Nations in the Four Corners area 'clean coal' is also a matter of ethnic cleansing and of their survival.
---
Contact List
Contact list for appropriate public officials & talking points.
Stop the mining of Black Mesa! Stop the destruction of the Earth & her children!! Question these agencies as to what responsibilities are. Let them know we are paying attention and are willing to hold them accountable. If no one in the office is able to take your call or respond to your letters, contact them again. Being respectful and responsible is a must, the families on the land will have to deal with the repercussions of your actions; bear that in mind. Read more
---
Elder Faces Threat
Big Mountain Elder Faces Threat of Charges for Ceremonial Lodge. Elder Served Notice That Rebuilding Ceremonial Lodge is Illegal.
Big Mountain, Black Mesa, AZ, June 2, 2008 – On Wednesday, May 20th, key traditional elder resister to the relocation laws, Pauline Whitesinger, was served a notice to halt "new" construction of an earth lodge commonly known as a hogan, and this notice was served by Bureau of Indian Affairs (BIA) agency deputized officers, Hopi Tribal Range Technicians. Read more
---