Statement of Navajo elder and relocation resister Pauline Whitesinger- May 2011
Hello, my name is Pauline Whitesinger. I am an Edgewater Clan, born for Apache clan. I am Navajo or "Din4". I am up in the years, i don't know how old exactly.
The place where I am standing has been subject to a "Land dispute". So they drew a line around us. I was told to move out by the government. I do not wish to leave so I am staying here. They also have been mining coal around here and they want to do it right here where i live but i will not get out of their way. I do not support the mining. That is what I have been dealing with.
These days I am hearing that they have more money available for Relocation. New funds are available for people who will sign away their ancestoral birthrights. I am so tired of hearing it. I have been to the Capter meeting last week and told them to quit saying it. We have no strong leaders  for us as relocation resistors in the Tribal Government. There must be something wrong with this thing they call "elections". The only people who ever seem to win are the ones who say "I will eat the earth. I will have the earth dug up and ripped to shreds."
We have our own meetings from time to time as a community of relocation resisters. They seem to draw a lot of attention from the BIA, FBI, and "homeland security". But I still believe that we deserve to have such meetings and we will continue to organize them.
There are impoundments going on right now out here. The "Rangers" are hauling off a lot of Navajo horses and cows. Whatever reason they come up with, it costs us a lot of time and $ and harms the livestock. I am fed up with it. And then the other day a bunch of trucks and trailers came out and stole a lot of scerap metal from my family. Maybe it was the rangers. In either case we are in need of lookouts and security to defend our livelihood. We don't get any help from the BIA. They are the ones who are doing it to us.
Even among those of us with the line drawn around us there is inequality now. Those of us who did not sign the "Accomodation Agreement in 1997 are having a hard time while signers drive around in a fancy truck with a big water barrel and suck up all the water out of the well. Why not herd your sheep down to drink instead of hauling water to them?
I live in the way that my mother and father lived. Caring for the herds, the garden and the sheep. Who will help me with the work it entails? The Rangers?
I heard on the news recently of the assassination of one of our leaders overseas. Let's have all of our native youth that are fighting over there return home immediately.
I live by myself for the most part. And there is a lot of work here with no running water or electricity, herds of sheep, goats, cows and horses. Two cornfields. My children have relocated, mostly because they are ill with diabetes and have to go to dialysis in the cities. They live several hours drive from me in different directions. My grandkids, some of them are very capable helpers, but they have been harrassed and chased off by the rangers. So they don't stay very long.
So I havε sheepherders and other types of helpers come and stay with me sometimes. Some of them work very hard to learn the life out here and some stay with me all winter long. Right now i am looking at another summer alone and I wish it were not so. I am inviting you supporters to come and help me with the work here and to keep in the way of the BIA that wants us Navajos off of Black Mesa. Bring whatever strange foods you eat and I will sample it for you. Some of it I even like. And you are welcome to eat Navajo food at my table. A lot of people have said a lot of stuff about Big Mountain over the years and i think most of it is lies. Come out and see for yourself.
And a big THANK YOU to all supporters for the work that you do. Ahehee!!!
All mail correspondence to:
Pauline Whitesinger,
P.o.Box 973
Hotevilla, AZ, 86030
Translated and transcribed by Owen Johnson stubx@yahoo.com
---
Testimony from a Sheepherder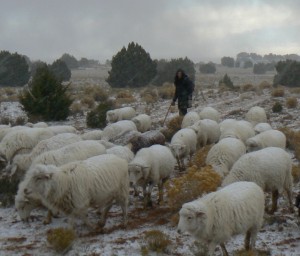 I have just left after a four month stay on the Land. This was my 14th winter staying with Dine' families residing on the so-called HPL and resisting the relocation laws by continuing to live on the land of their grandparents of generations back. It has been an intense winter. The big snowstorm was a sight to see, and reminded the elders of storms 40 and 80 years past, when there were many more families out there, and most of the elders didn't live alone. And yes, the National Guard and US Army did come out to the families. I wondered at the irony of the hay, water, and other supplies, thinking how the families have lived under the threat of the Guard coming in to take them from their homes.
The OSM Life of Mine permit getting denied was a pleasant surprise. I had been looking at the hills, meadows and rocks that I have come to know, as becoming 'reclaimed' land through the mine expansion, and thinking of the long, hard fight to come. A second generation Black Mesa miner, and "HPL" resident stated that he was glad about the permit, and ready to see a change back to the old ways of living and away from mining.
The Supporter caravan at thanksgiving was a fast and festive, and abundant time. About 120 supporters for the week, but by the end of January there were only a few supporters on the land, and a list of families asking for a sheepherder. We were desperately calling out for people to come, and a few did, but only a few. And I thought, this is where the real support is needed- in the long haul, the deep snow.
Back in 1997, and again in 2000 the families were living under a threatening "deadline", and there were literally hundreds of supporters on the land for months. I am grateful that there is no deadline as such now, but I do wonder what keeps us supporters from committing to coming out, or coming back. I have personally placed several hundred supporters in the last 12 years, and I marvel at how much we struggle to 'get the word out' and 'get support to the Land'.
I am so honored and humbled by the loving hospitality I receive from the families. My sons are treated as family, and are growing up knowing the elders, kids and supporters, and about fighting for and supporting what is right. I have been raised out there myself in many ways. The Dineh people have been my teachers and mentors, my inspiration. I believe in doing all that I can to honor their request and invitation to come into the home, the land and the lives of the people indigenous to the land -what that means and what they are fighting for and against. I believe it is at the heart of the most important work today.
And I am writing this to remind us, you, that their door is open and there is a job to do- something that we are needing to understand, a connection that needs to be made and honored. It is time to come. It is time to come back. Its time to give back. Please help us do this.

Tree,  BMIS volunteer and volunteer coordinator
---
Statement of Pauline Whitesinger, elder Dine' resister, Edgewater Clan 2/10/10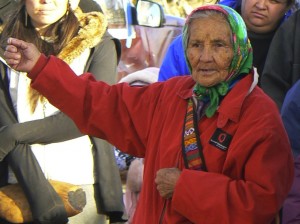 Greetings to my relatives. I want you all to be aware of an incident that has occurred at my residence (Sweetwater, Black Mesa) this past week. As you may be aware we have had a lot of snow this winter. BIA road grading crews have been slow, but they have been coming. Some of them are very friendly and supportive and I had given them permission to park their machine in my front yard. A different group returned for the machine and one of their crew offended me very much in a short conversation that we had. I became so angry with him that I threatened him and chased him off. I do not know at this time what repercussions I will be facing. We are subject to whatever the BIA sends our way. The type of comments that he made are typical of the abuses we have suffered over the years resisting relocation and struggling against the government. Wouldn't it be nice if we could do the road grading ourselves. I hope that you will consider that I am alone here most of the time and I would like to have more supporters around to help with the day to day chores or matters of traditional living importance that will never be supported by the BIA or their employees no matter how big their budget is.
Thank You!
Translated by o. Johnson. Comments may be addressed to stubx@yahoo.com
---
A Petition From The Big Mountain Situation
Ladies & Gentlemen, the Old, the Young, the Coming Generation, and Relatives:
As we speak, there exist a state of fear and anxiety in a traditional community at Big Mountain in the heart of Black Mesa. And as we speak, the federally deputized officers of the BIA Hopi Agency Police and Rangers are patrolling this region where a few traditional elders continue to live and also resist federal mandates to relocate. I want to bring your attention to one particular situation that is an example of the wide-spread acts of injustice, human rights violation, religious intolerance, and threats of property destruction. Read more
---
Big Mountain Native writes an appeal for us all to listen and honor the traditional Elders of Big Mountain.
---
News Release: OSM Approves Black Mesa Project Final EIS
---
Ancient Ways Abandoned to Fend for Themselves at Big Mountain – Pauline Whitesinger Interview

(Left Photo by Akilla Kojima. Inset photo is Dineh elder, Pauline Whitesinger's traditional earth lodge and still under construction that the BIA tribal authorities say is illegal because Pauline has never signed any kind of agreements with the Feds in regards to the 1974 relocation law.)
---
Big Mtn. Elder Matriarch Continues to Face 'Federal' Threats
Big Mountain, Black Mesa (Arizona), November 18, 2008 – A nice peaceful morning in the Dineh resistance stronghold known as Sweet Water was again disrupted by a uniformed officer from the Office of Hopi Lands. This officer who had a badge that indicated he was with the Hopi tribal police claimed he was not serving a "noticed" on behalf of the Bureau of Indian Affairs, nor the U.S. government. The small 82 year old matriarch, Pauline Whitesinger, was trying to speak in the Dineh language to the thick and tall Indian officer that cannot understand Dineh and who was 'assigned' to meet with (grandma) Pauline about her "unauthorized" reconstruction of a traditional earth lodge. Read more
---